About Imperial Pools
The Oldest & Largest Privately Owned Manufacturer in the Northeast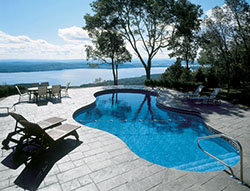 Imperial Pools – what began back in 1959 as a small retail pool company, today, is the Northeast's oldest and largest privately owned manufacturer of high quality galvanized steel and polymer inground pool kits. In addition, we manufacture one-piece thermoplastic steps, and interior pool finishes for inground pools and above ground pools.
The main plant of Imperial Pools Pool Company, located in Latham, NY, is a 150,000 square foot multi-faceted facility. It houses our corporate offices and showroom; manufacturing sectors – steel, polymer, vinyl and thermoform steps, and a large distribution center. Saratoga Spa Company, an Imperial Pools division, is also headquartered there with its manufacturing department and corporate offices.
Imperial Distribution Centers, each 30,000 square feet, all have extensive warehousing capabilities as well as packaging and shipping departments. They are located in Columbia and Simpsonville, SC, Memphis, TN, Indianapolis, IN, Cincinnati, OH, Mansfield and Amesbury, MA, Fairfield, NJ, Cheshire, CT, and Latham, NY.
Our Mission
Imperial Pools is the only privately owned company dedicated to the manufacturing of best-in-class packaged swimming pool components, spas, and related products.
For over 61 years, we've built personal and professional relationships on the foundation of integrity and mutual trust, with an unwavering dedication to people, products, and performance.
We are committed to deliver top quality brands, the most creative and innovative swimming and hydrotherapy experiences to homeowners, and one -source convenience to pool and spa professionals, while providing an environment of opportunity and fulfillment to our employees.
Our Guarantee
Your Imperial Pool is built for life, a statement we back with a limited LIFETIME WARRANTY with a one-time transferable provision. If there is a defect in an Imperial manufactured product, we will replace or repair that product at no charge.